Whether you want to get away for the weekend, the summer, or the rest of your life, an RV may be your ticket to freedom
Picture this: You're on Interstate 15, a four-lane highway that snakes through the Virgin River Gorge, situated between St. George, Utah, and Beaver Dam, Arizona. Your foot's on the gas. The speedometer's needle hovers around 55 miles per hour. The late afternoon sun peaks through the towering cliffs to the west, casting a heavenly light on everything it touches. Hank Williams Sr.'s voice floats through the speakers: "I love you baby, but you gotta understand, / When the Lord made me, he made a ramblin' man…" You and your wife are enjoying the ride. Then, your children grumble from behind: "I'm hungry!"
"If you were in your car, you'd have to stop at a McDonald's, or something," said Scott Nielson, looking out over a sun-drenched, 52-acre swath of land in Hurricane, Utah, on a clear day in early February. Nielson explained the virtues of owning a motor home instead: "You or your wife could go into the kitchenette and fry up some chicken. And you could keep on driving."
That's one of the freedoms that come with owning a motor home, said Nielson, who founded Nielson RV 25 years ago. He's standing on the land where his newest venture, the family campgrounds chain, Yogi Bear's Jellystone Park Camp-Resort, is located. Nielson said that RVs—recreational vehicles—provide many freedoms unknown to those who travel by cars, planes, and trains. "Especially during the pandemic," he added, shifting from a conversational tone to a slick sales pitch. "You don't have to deal with the hassle of airports. You don't have to deal with unclean bathrooms at rest stops and McDonald's. You don't have to wonder whether your hotel room has been properly cleaned before you tuck in for the night." Instead, if you've got a motor home, you can drive from Arches National Park, in Moab, Utah, to Mount Rushmore in the comfort of your own home.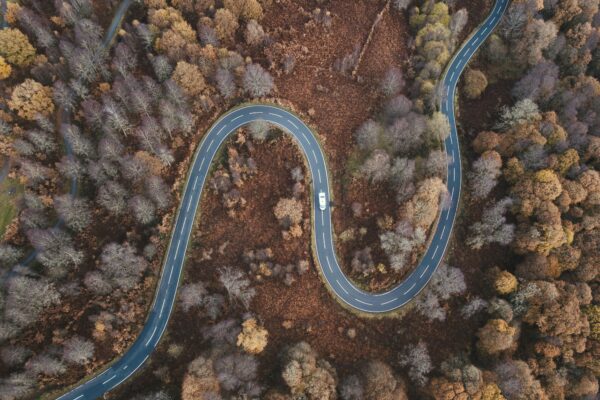 While many businesses buckled under the pandemic's pressures, RV dealers across the nation saw record sales. "When the economy is down, I'm selling low-cost housing," Nielson said. "When it's up, I'm selling a lifestyle." When Americans were told they had to quarantine, many saw that they could be stuck in their houses, or they could be out in nature, hunting and fishing. So, they hit the road in their homes and quarantined in the great outdoors. "That's why," Nielson added, "traveling in RVs is becoming a way of life for increasing numbers of people. It gives you the freedom to move about the country, to live, really, as you please."
A Great American Tradition
The movement Nielson described may trace its roots to 1915, when Ronald Conklin and his family traveled from Huntington, New York, to San Francisco, California, in a 25-foot, 8-ton auto bus—to much media fanfare at the time. The "Gypsy Van," as it was called, was custom-built by Conklin's Gas-Electric Motor Bus Company. The goal was simple: Provide the comforts of home for the family as they camped their way across the United States. Before that, campers had to build a tent, set up an outdoor kitchen, unpack, and so on. The Conklins simply stopped and settled in.
Today, RV enthusiasts like Brett Parris, owner and president of Parris RV in Murray, Utah, keep their rigs stocked with gear, clothing, supplies, and nonperishable food items. "If you properly stock your RV, you've got a one-year prep kit ready to go," Parris told American Essence via phone. "I'm not a doomsday prepper, but that gives me some peace of mind. We're always ready to get up and go."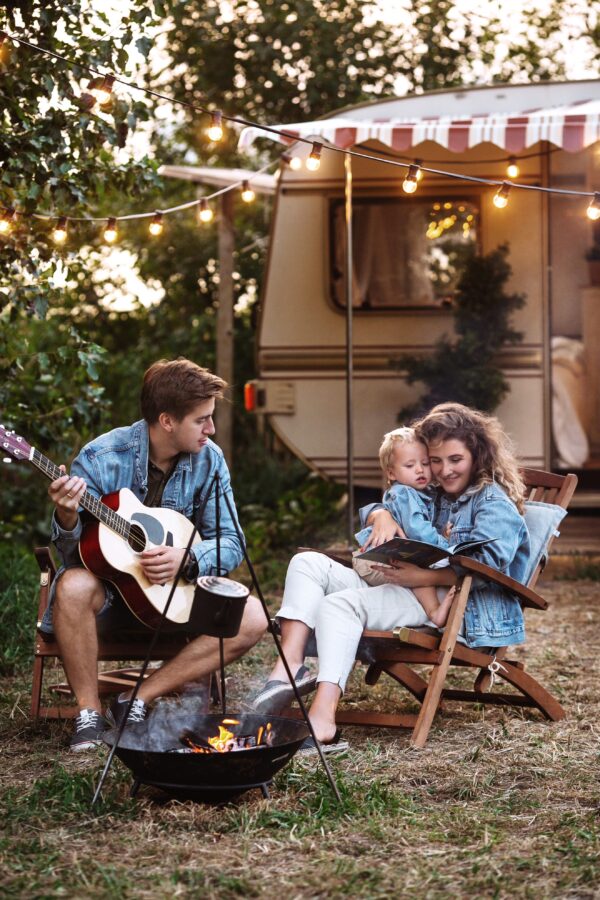 Parris said that he and his family built their business on a foundation of their love for traveling throughout the country, and seeing as many national parks and monuments as possible. On their bucket list, the family had 56 destinations listed in Utah alone, he said. While the Parrises have visited all of those Utah spots, they're still trying to see many others around the country. "When we travel, we use an app you can get from nps.gov, which shows you where all the national parks and monuments are. We're still trying to conquer it."
An avid outdoors enthusiast, Parris started with a tent trailer when he was in his 20s. "They're great starters," he said. "We pulled it with a 1990 Chevy S-10 Blazer." Then, in 2000, Parris graduated to a Fleetwood Prowler 25z, a 25-foot travel trailer with a queen bed for the Parrises, and bunk beds for the kids. Parris echoed Nielson's feelings about the freedoms RVs provide. "In 2020, the pandemic canceled a lot of events and meetings that I normally have to attend in person," Parris said. "So, we used that time to travel down to Arizona." The Parrises saw Saguaro National Park, in Tucson, Arizona. Then, they traveled an hour south and east to Tombstone, where travelers can see landmarks like the Bird Cage Theater, and watched staged shootouts that featured performers who played Wild West figures Wyatt Earp and Billy the Kid. "On the way back," he continued, "we stopped in Sedona. We stopped at the Southern Rim of the Grand Canyon. All told, we traveled 10,000 miles last year."
When workers around the United States began working from home, many saw that home could be a campsite in Yellowstone. Rather than seeing the same things outside your bedroom window, you could wake up to a new view every day. And that's why RVs are a uniquely American phenomenon. "Most RVs are built and manufactured in the U.S.," Parris said. "They're great for everybody. Families get to stay and play together, and lots of Americans have good paying jobs with benefits." Parris paused there, then added: "What's more American than that?"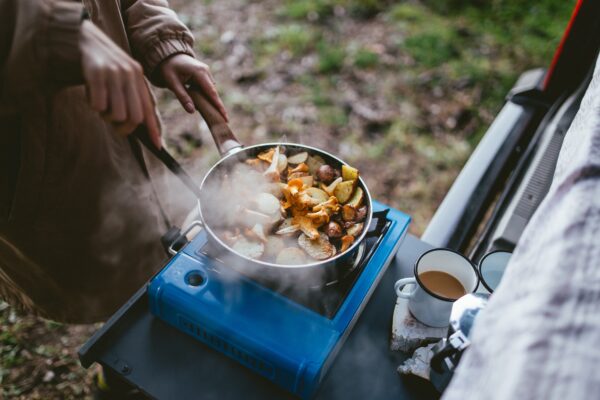 Downsizing
John Noltner was a freelance photographer living with his wife, Karen, in Bloomington, Minnesota, before the pandemic compelled him to pause and reevaluate his life. "Karen and I reflected together," he told American Essence. The treadmill of life "that had been clouding our vision stopped," Noltner said. "We asked ourselves: 'How do we want to live?'" The answer was simple. "My work forced us to be apart a lot of the time, so we decided to scrap that and build a life in which we could spend more time together." That was the beginning, Noltner said, of their mission to perpetually downsize their lives.
"During fall of 2020, we sold our home in Bloomington," he said. "We used that money to buy a 34-foot travel trailer. That's how our life on the road began." The Noltners practice what they preach. Four days before speaking with American Essence, they traded in their travel trailer for a customized Ram Promaster van from Dave and Matt Vans in Gypsum, Colorado. "As we traveled around the country, we saw that the cool spots by the creek are reserved for smaller rigs," he said. "The big rigs have to park in the gravel lot out back. We wanted the flexibility that comes with driving something more nimble." The Noltners now live in their van year-round.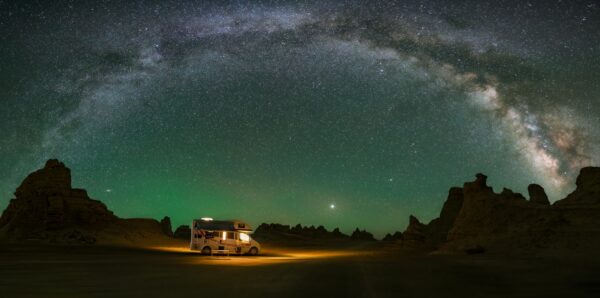 The smaller space challenged them to downsize even more. When they arrived at Dave and Matt's to pick up their van, they carried everything they owned in four duffel bags. "I've got three pairs of jeans now," Noltner said, laughing. "It sounds crazy to me, because we used to have so much stuff. Now, we can clean our whole home in about seven minutes."
They headed south to Moab, Utah. Noltner said their campsite provides 360 degrees of gorgeous views. "It's blue skies and puffy white clouds drifting over red rock formations," he said. "We don't stockpile anymore. We don't have a TV. We don't go to Costco to buy industrial-sized bags of frozen chicken."
This article was originally published in American Essence magazine.